Not a waste of money
How often do we invest our time, effort and wealth into something that turned out to be a turd?
Looking back over 2017 I have been impressed with my shopping choices. The exception is the usual fashion-rubbish that I still think would suit me but doesn't. But hey-ho, Sally Army benefits from that. It would be more worth-while to make a direct cash donation.
This year has seen the ride on lawn mower – ooooh, I love it. What used to be the primary choice to hone my excellent procrastination skills, cutting the grass, became a bi-weekly event. I don't really have enough lawn to validate the purchase that caused the delay for far too long. But I cannot foresee any time in my future where lawn is not going to be a major player, and 90 minutes of hauling a mower around should not be part of my future either. It is the dogs' pleasure to run the grass, our training and playing pad and my sense of space. It has also improved immeasurably from a decent, regular cutting. April will see new sections bought "under grass".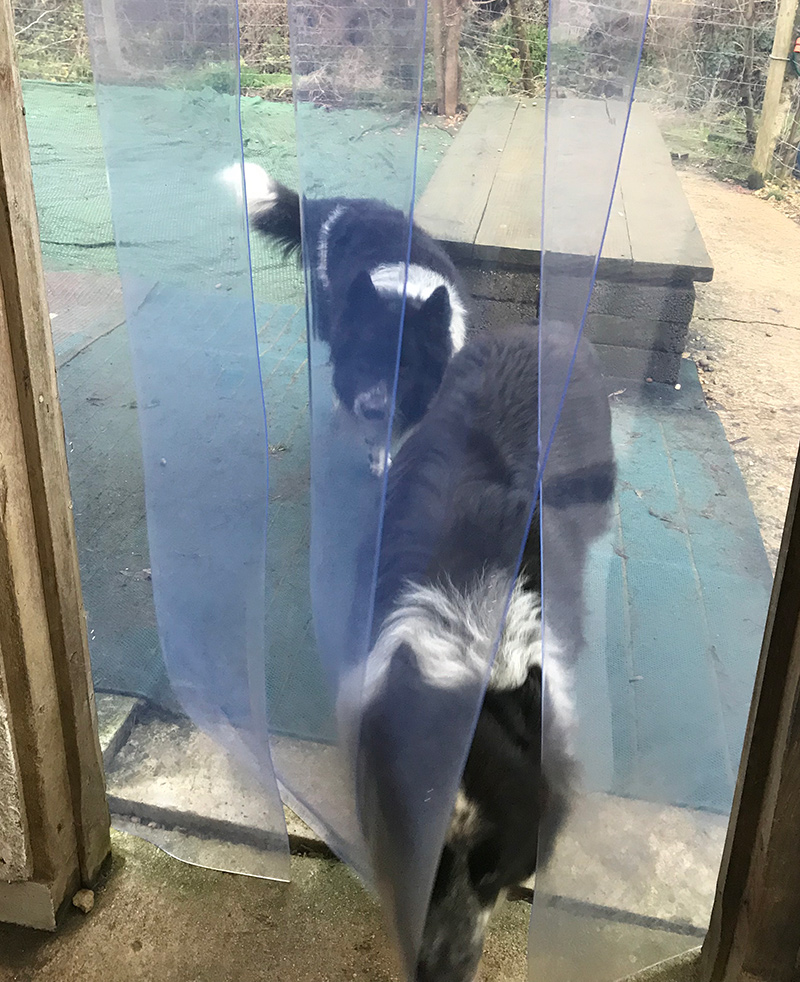 Ideal when you do not want to be letting the dogs in and out all day. They easily learn to push through.
Perfect curtains
These curtains are design to maintain temperature which I have only ever seen on the doorway of walk-in cold storage etc. Made specifically to order, and easy to hang, you can easily lift off each section which I needed to do for the first day so the dogs worked out that they could push their way through. The room stays pleasant, I stay pleasant, and I am experiencing a daily thrill of Being a Good Buyer. I suspect they made need wiping down from time to time depending on how mucky the dogs are. They usually leave some residue oils from their coats around the place – but this is heavy duty plastic, so easy maintenance. Check again in 5 years!
Dogs beds reinvented
I schlepped a couple of the off-the-floor beds home from Crufts. I remember the old "Goddard bed" from my childhood which was a similar design. A canvas sling on a metal frame with a hinged rail. I found the original advert from the 1930s, goodness. This is not a new concept, and I think at some time I have slept in a camp bed of similar design. But the 2017 variety is a little more safety conscious, no gaps to get legs stuck into.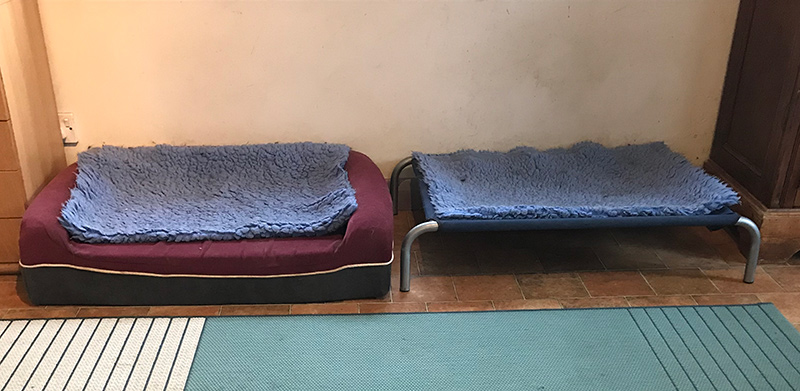 Plush memory foam comfort or canvas sling? Canvas sling every time.
The only one who opts for the plush memory foam is Flink, but she will sleep on gravel, so I don't think her priorities are recommendations. Merrick is a canvas-sling choice along with Time.
They regularly play the bed choice game. If Time vacates, Merrick will swap to it within a few seconds. We have to consider what affects the choice: the comfort of the bed and also the location. I like to see where the dogs individually choose to sleep, which often depends on the time of day and the activities of the house, the weather and general mood Merrick is in.
Practicality wins
My shopping choices do lean towards practicality and functionality and things that make my life easier. But I have the experience now not to believe the marketing of what I "need" to make my life easier. The cupboard under the stairs can be full of those things!