Sheepballs® is a Registered Trade Mark
To live with a collie is to love their style, dedication to work and to respect their heritage.
We may not provide a daily dose of sheep but there again most working dogs do not get a daily dose.
Sheepballs is learning to share their heritage and experience the pleasure of working in a balanced partnership with a dog.
SheepBalls® teach us:
How to reward a collie-brain through doing the right job, in the right way and deliver top-job satisfaction.
Shape the learning through what we call a game but what is to them is a Most Important Work worthy of rolling up the sleeves.
Control without conflict
Arousal without stress
Learning to go with the grain not against it.
For any sport or activity there are foundation behaviours and skills that are needed before progress to more advanced stages can be considered. The foundation of these skills needs to be technically correct since all future learning will be based on this.
Skipping over or shortcuts will result in a need to return and tidy up. Advanced training is simply paying more attention to the fine details within the foundations.
For the trainer there needs to be a fundamental understanding of why these foundations are important and how they contribution to a successful future. The quality of the foundation is a direct reflection of the understanding of the person who guides that learning.
Sheepdogs can inherit a range of skills in various strengths. This is something of a lottery in that we do not know what has been inherited until the opportunities elicit the responses. When these strong instinctive behaviours are not understood they can quickly become unmanageable and make life restrictive and challenging.
Sheepballs® uses specific toy-movement and interactive body language to elicit the foundation behaviours. This is balanced with the intrinsic rewards that performing these movements will give the dog. It is exhilarating, challenging and demanding for both participants to be able to enjoy and avoid frustration.
When Sheep or Balls are to be worked and when they are not.
AKA: Not Right Now.
Understanding the difference between Toys In Play and those that are not. This comes from our understanding of how Collies see their world and learning connection through body language.
This skill of discriminating the Balls in Play and Balls Not In Play is exactly the same skill as walking alongside traffic (Not in Play), skateboarders (Not in Play), litter mates (In Play). Being able to communicate to the dog the difference, and when the ball changes from In Play to Not in Play, can prevent your dog from trying to work everything from earwigs to cats.
They will always need some outlet for their inherited drive and these games must be regularly employed to prevent a life of extreme frustration.
Holding distance
Being too close is often a result of undesired requests to retrieve to hand or foot which are rewarded before the dog has regained their natural distance.
Holding distance should be the default, not a prompted response
Holding the wait-in-readiness
The anticipation wait, the dopamine bath, should be honoured and given sufficient duration to be effective. This is the foundation of the cooperative stop.
Sheep will always need to be given as much time as they need to gather their lambs, turn away from the threat, and choose a direction to move in. When they are not given time they will panic and bolt and this triggers overarousal in the dog. Patience in a dog should be developed.
Reading the balance point and moving into position
The dog should be able to reposition themselves without prompting to the balance point as a direct result of reading the person's position relative to the ball.
When they re-position they should NEVER lose distance and come closer to the ball.
Turns both left and right at 90° 
Although to the inexperienced eye it appear the dog runs in a clockwise/anticlockwise direction around the sheep, the whistle, or cue or command is the TURN, NOT THE RUNNING.
Do not fall into the trap of associating the running circuit with the cues.
Walk on … 
After holding position the dog walks up to the ball as the person walks backwards pulling the ball towards themselves. The dog should  be able to stop as the person stops without prompting.
Verbal cues
The Foundation of cues for Wait or Stop, Turn left / Right to reposition to balance point, Walk on, That'll Do.
Cues are added once the behaviour is reliable in response to the person-ball repositioning. Consider your set of cues carefully and do not confuse the dog with similar sounding words that have different meanings:
Wait and Away = too confusing, one means move, one means stand still
Come and Come Bye = too confusing, one means come towards me, the other make a turn and stay out
Stand / down = stop, not the actual stand or down position. If you do want the dog to be able to Stand or Down then use something else for Stop.
Sit does not exist in this context.
Add some sheep
 … and you will have a well prepared foundation before the sheep take over the teaching. 
A good future
When the foundation behaviours are achieved to a good standard more elements of the game can be introduced. It is more about the journey and the understanding that develops along the way not a shortcut to "fix" undesirable behaviour
These Foundations contain all the skills needed to reduce the dog's overarousal and focus on inappropriate sheep.
You will learn:
how the dog is super-tuned and stimulated by movement
awareness of how your own behaviour has a direct effect on the dog
the intensity and focus the dog can give to their work and how to reduce and increase that
diligence in teaching precision responses
more respect for the learning capacity of the dogs to teach themselves rather than be trained
We chose to live with collies because they are amazing dogs that arrive as a whole package ready for us to explore and share their learning.
Sheep are like balls and can roll in the right direction, butt you in the face or bolt to the hills.
Satisfaction delivered where a dog can have all their balls where they like them.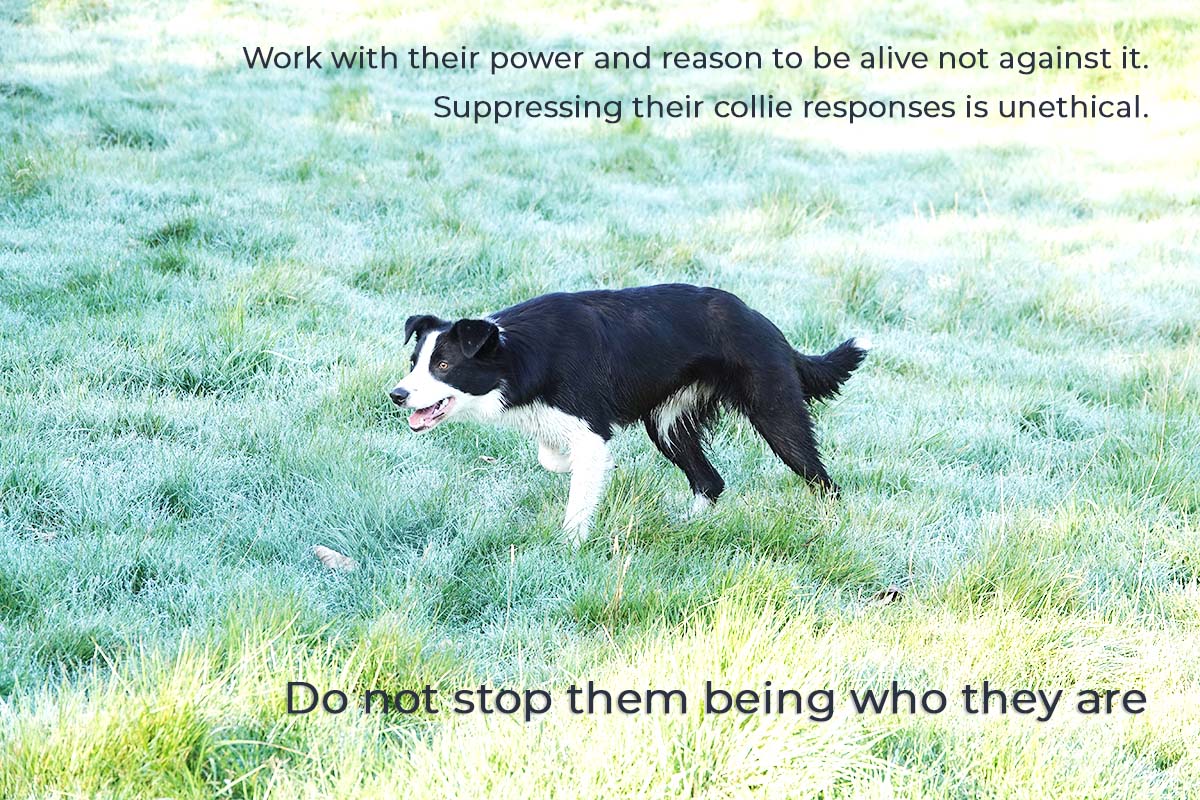 Opportunties to Learn More …
DOWNLOAD
Our pdf of SheepBalls® Right Start to be sure you give your dog the best chance to learn well.
Best Balls to source
Skills you will need to practice
How to make the balls behave
The Foundations to get started 
With tips from starting hundreds of dogs exploring their heritage and pleasure. 
Live Course
SheepBalls®
A practical course with individualised coaching to develop your skills and those of your sheepdog.
Use the games and interaction to release and shape the innate behaviours your dog has inherited.
workbook
Learning About Border Collies
Learn how to bring a good quality of life to  your companion, enjoy games designed specifically for collies and understand their quirks and special needs …
Live Course
The Wrong Sheep
A practical course with individual coaching to develop the skills to manage a dog who is prone to chasing: traffic, bikes, joggers etc.
Understand why this is happening, and be able to select good management techniques and activities to rebalance the learning.
If you are looking for help or courses to learn more about Sheepballs®, always seek an approved member of our Teaching Team. They have proven their skills with their own dog, achieved a high standard of understanding and are skilful at arranging the learning to bring out the very best in your collie.
Individual tuition and coaching with the Sheepballs® activities or for specialised help and support with your collie.
SheepBalls® is a Registered Trade Mark No. UK00003901470 in respect of: Class 41: Education, teaching and training;Tuition in animal training.
In the name of Learning About Dogs Ltd