Raising a puppy takes a
thoughtful
village
Meeting Nika
Frances McCormack
From joy and delight to doubt and uncertainty. 
The first couple of weeks
The enormity of the responsibility, the desire to serve her well, and the knowledge that I will make mistakes along the way are part of the pure delight that getting to know this marvellous being entails.
Nika's not just a friendly dog. Nika's a dog who is extremely stimulated by novel humans.
I didn't even notice the magical power of her Great Big Yip as a summoning charm until I found myself half out of my chair …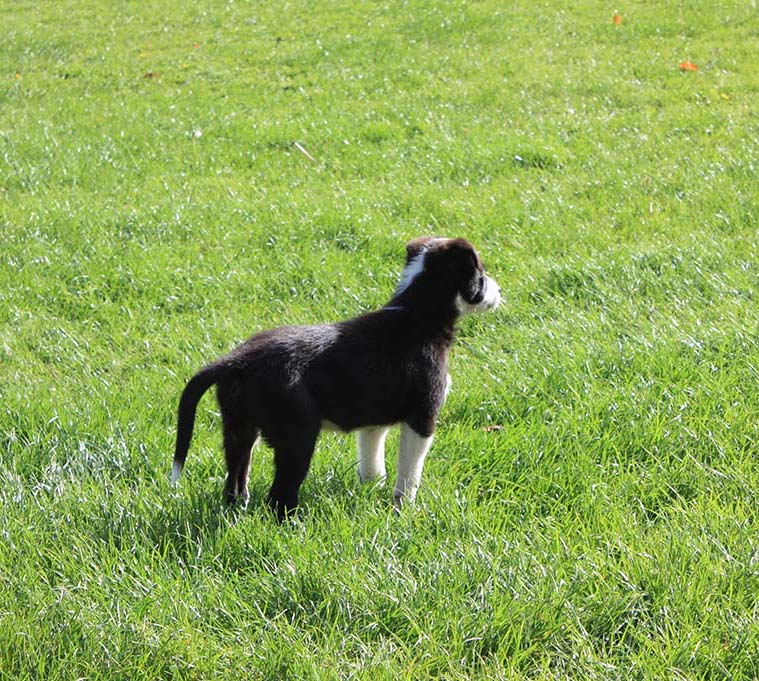 I want Nika to learn that there are things that happen "out there" or "over there," to which she doesn't need to attend.
1. Are you ready for this?
Are the other people in the house or family ready, and clear about their role and responsibilities?
What changes will you need to make to your lifestyle?
Are the other dog(s) going to lose their routine, role, place of affection, quality time? Which of these can be sacrificed, and how will you provide for and support the others?
2. Is the house ready for this?
What preparation have you put in place for safety, barriers, and limited access?
Where will the puppy spend their time during the day, at night, and while eating?
What will their feeding patterns be, and how will this be integrated with the feeding patterns for other dogs?
3. Is this the right time of year?
~ Winter born, Summer Teenager is often ideal but a
~ Summer born, Winter Teenager can become a pup from hell.
4. Have you done your shopping?
Have you selected a variety of food for a gradual change over?
Have you planned food rewards?
Have you acquired appropriate chews?
Have you selected "toys" from among your recycling?
5. What is their first learning?
What is going to be most important for her in her time ahead?
What skills will she need to most comfortably move through the world she's now living in?
What do you not want her to learn? 
6. Safe to Greet Strangers?
A puppy who would be friendly with everyone grows up into the adult that is a nuisance, and you become the owner shouting "She's friendly" across the park. 
A neutral dog does not mean they are aggressive or fearful of strangers, just that they see very little benefit or pleasure in the opportunity. 
Strangers are like street furniture – not for peeing on, just for pasing by. 
7. Are you listening?
When a puppy is not being heard they will try grabbing, yowling, scratching and jumping up in an effort to get you to listen. 
Ignoring this is a route to frustration and all these "conversation openers" will be graduating from annoying towards serious trouble.  
Make sure you have your ears switch to "on". Be a listener, attend to their needs, have a conversation, make the time. 
8. Setting the Future Routines
Our first few months are building the routines for the future. We need to be clear what we want them to learn and experience.
Where they sleep in the future may not be where they sleep when they first come home. The important element is not the location, but the isolation.
If you want to sleep in your bed, then make accommodation for the pup near your bed.
If you don't want the pup upstairs, then makes yourself a bed near the pup downstairs.
The key to a good nights sleep for everyone and a future with no fear of isolation is for them to be sure you are nearby.
This can gradually change as they get more confident about the routines of the house.
Nika Recommends
Courses that will get you off to the best start and maybe answer some of the key questions and doubts:
Use the coupon "NikaRecommends"
to get 20% OFF
Setter Members
Access to The Sett community forum and live Sett Chats
Setter Library with 12 courses, over 70 lessons, covering over 150 topics 
Live Courses for Setter Members only.
Share your learning, upgrade your thinking
£140