What my dogs have taught me about connection
Connection starts with invitation, no strings attached, no pressure to please. We humans usually have to restrain ourselves to get this right the first time we meet a dog. It is so easy to overwhelm with too much of our own need to be loved. Too much eye contact, too much touching, too many demands. In my experience watching many humans attempting to make friends with dogs, all this primate fussing mostly pushes connection away.
Connection invites curiosity. When you quiet yourself, it's like giving a gift. This gift comes back ten-fold that first moment a dog freely expresses — on her own terms — when she's ready to learn more about you.
Connection thrives in the absence of expectations, a precious freedom that fills the space between two beings when there is no agenda, no time limit, no "have to get it done." This was the hardest lesson for me to learn. Even my desire to be a good trainer got in the way sometimes. My dogs have had to teach me, over and over, that they are not here in my life to be "fixed." They are not here to be manipulated, or molded to fit my ego—even when all my ego wants is what I think is best for them. What I think is best for them means nothing if they have no say in what that is. The day I learned to accept my dogs for who they are—every single part of them—not just the behaviors I wanted more of—was the day they truly began to thrive.
The opposite of connection is the mindset of command, the mindset of do-what-I-say-or-else. Many teaching and learning relationships find imprisonment here—no matter how "effectively" the "training" is done. From the mildest nag of a repeated cue, to the harshest jerk on a chain, when what you've signalled is backed up by command, there is no way around it, what you are really teaching is self-defence, i.e. how to do the bare minimum needed to survive. A command mindset shuts down curiosity. It shuts down acceptance. It makes invitation a lie. A command-mindset cuts you off from the very things that make connection possible. Calluses form. Walls and bars go up. There is a reason dogs are masters of avoidance, "calming signals," wandering away to sniff. We blame them for the disconnect, call them "stubborn," or "unmotivated," but really should look first at what we've locked away in ourselves. When we can open up to connection, our dogs are almost always willing to meet us half way.
Connection is asking questions. The most successful teaching and learning sessions with my dogs these days, the most joyous in fact, are filled with questions. Are you ready to join me in this game? How is this behavior for you? Comfortable? Fun to do? Would you like a different reinforcer? What else do you need? I am astounded at how many different ways my dogs tell me what they want and need. Equally astounding is just how quickly their wants and needs fluctuate from moment to moment. For years I've done my best to be a good listener, but feel I'm only just now starting to develop observation skills nimble enough to keep up.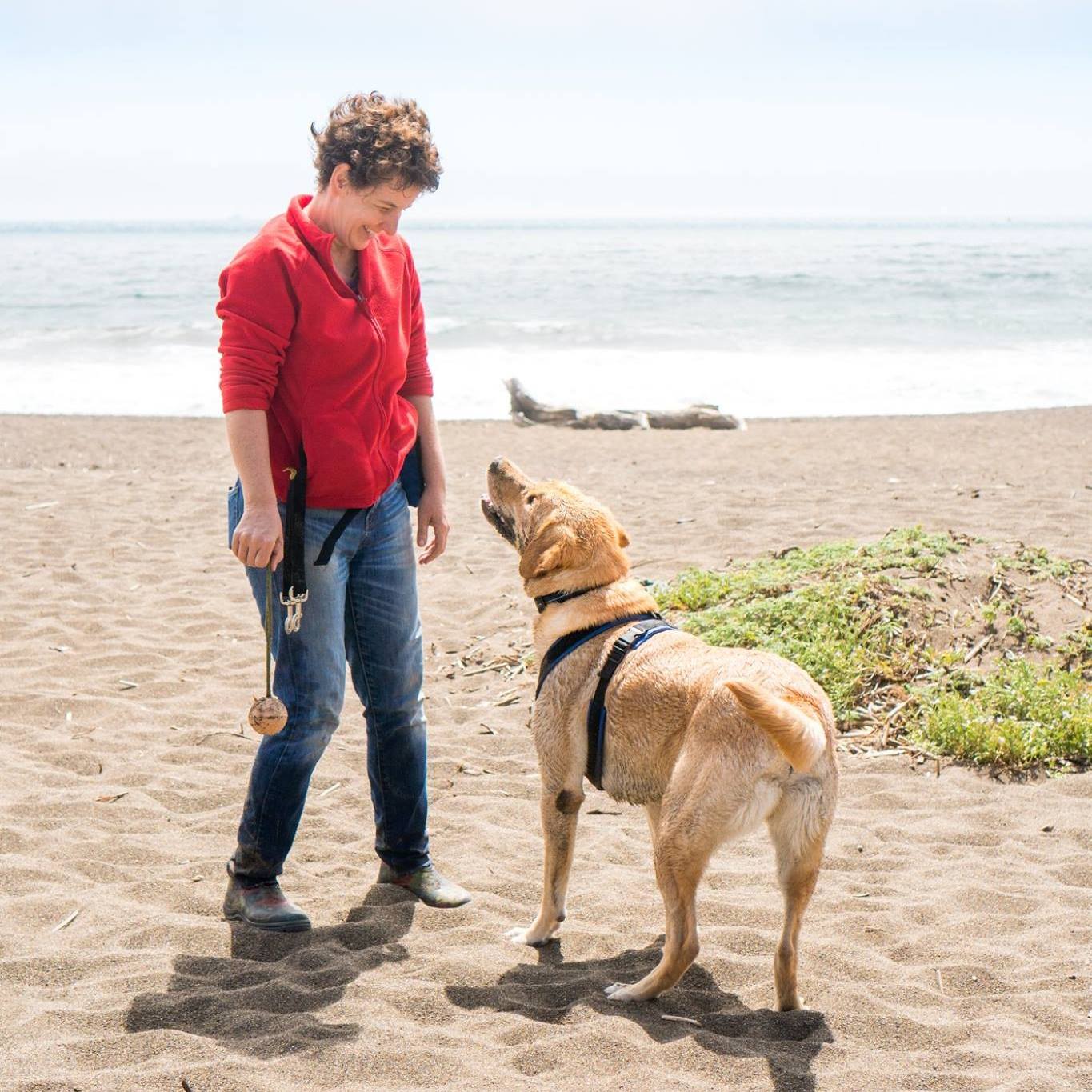 Connection is play, true play. Not just repeated iterations of tug and fetch—each action polished and performed to precise specifications. I was surprised to learn a few years ago that many of the so called biggest no no's about playing with dogs are actually the heart of the fun. To really play with a dog you have to let go. You have to be able to make an ass of yourself. You have to accept that the dog usually wins, and should win. You have to be willing to honor possession. Play is teasing. Play is being naughty. Play is a little out of control. Play is laughing together. Play is respectful. Play is pretend conflict between trusting partners. Play is allowing the dog to shred and tear. Play is non-contingent. Play is enjoyment. You play for no other reason than to have fun. I learned to truly play the day I learned to invite my dogs to show me how it's done. Think hunting bunny rabbits through the grass, then tussling over the spoils, in the most light-hearted, goofiest way imaginable. 
Connection is a physical sensation, something that tugs at the heart. The way my dogs follow me from room to room, flopping down wherever I am. The simple comfort of being close to one other, a warm chin on my knee, a soft snore from the floor; or the way they seem to read my mind when we are out hiking. Even off-leash, rarely do I need to call them back. It is telling that we feel most connected when they are most free, like someone wound an invisible string through the trees starting with them and ending with me. Stretch the string too far, and the pang of separation grows sharp. But without fail, just before reaching the limit of what we all can bear, there my dogs are again, gleefully flying back to my side. 
Connection is co-mutual awareness. Human and dog, each engrossed in the behavior of the other. I watch them and they watch me. Hours of accumulated eye-contact, each glance, each check-in pure sustenance passed back and forth between us. Yes. I see you. Do you see me? What are my dogs watching for? Those unconscious signals, tiny shifts in my behavior they have learned lead to one of the 1,001 things I do that are relevant to them. 
Connection is becoming profoundly relevant to another being. Before you have established connection with a dog, it's like you are just part of the background noise. The dog's eyes slide past like you are not even there. But once you have earned connection, every move you make becomes scarily significant. The slightest twist of my wrist when there is a treat in my hand sends my dogs running left or right. The shift of my shoulders as I move through the house broadcasts like GPS signal which room the next party is in, and they meet me there.  If I put my hiking boots on, they race to the door. If I put on slippers they stay put in bed. 
Each day I strive most of all to honor my dog's engagement by paying close attention to how I interact with them. It is a staggering responsibility. As often as I can, I do my very best to hush my primate self, to invite, to let go of expectations, to be curious, to ask more questions, to play. As often as I can, I try to express with my behavior just how relevant my dogs are to me, and just how much they fill my world.